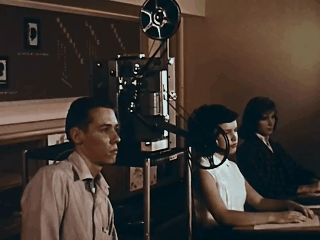 Reading Movies
This week we're moving from audio to video. We've been looking at related aspects – photography, sound, design – all along, but now we're going to look at cinematic camerawork, and how it all comes together.
For starters, read Roger Ebert's How the Read a Movie to get some basics of film analysis.
The following links are part of Tony Zhou's filmmaking series, Every Frame a Painting. The entire series is worth watching and highly recommended, but I'm going to point out these in particular:
Joel & Ethan Coen – Shot | Reverse Shot
How Does an Editor Think and Feel?
Memories of Murder (2003) – Ensemble Staging
Akira Kurosawa – Composing Movement
Assignments:
Begin working on recording and editing a Mini Video Documentary. It should be 2-3 minutes in length, no more and no less. It should feature someone who is not a close friend or family member, but someone from your community who has an interesting story to tell. (This one is difficult and you have two weeks to complete it).

For the weekly summary this week about the mini-documentary, write about your progress made during the first week.
Just as with the audio assignment, reach out to the #ds106 community for suggestions on how to proceed if you have never created and published an edited video before. I highly recommend not waiting until the second week to begin this. You need to locate a subject, arrange an interview, edit the recorded footage, add in some b-roll footage, add some background music, render the finished video and publish it to YouTube. It will take some time, so don't delay in getting started!

Complete the Do the Hitch Cut assignment and one other video assignment of your choice.
Daily Creates – do only 2 DC's this week.
Submit a weekly summary of activity to Canvas.
Commenting – Keep it up! It makes the world go 'round.