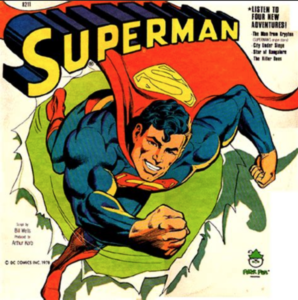 Listen: "The Killer Bees " (link requires K-State login). This example of audio storytelling is typical of the 1970s. Picture a simpler time when kids were less immersed in media than they are today. High tech back then was a portable vinyl record player and a collection of LP recordings. Think about how the sounds, the sound effects, music and the changes in sound, tell you what is going on, how they create a sense of place, a sense of space and a sense of atmosphere. Good audio can cause us to use our imagination to "see" the story unfold. Does it still work in our media-saturated culture today? Write a reflection blog post on the effectiveness of this piece of audio storytelling.
Listen: DS106 has an internet radio station – DS106 Radio . On Monday, Tuesday, Wednesday & Thursday evening this week at 7:30 pm – 8:30 pm Central Time some radio programs will be airing. Choose one or more of these nights and tune in to the channel, if even for only a few minutes to participate in a live tweet-along. Do what your schedule allows, but listen in at least one evening this week. It is interesting and fun to have a shared online experience with other listeners from around the world.
*** Note added*** Some are having trouble accessing the radio website because of security settings in the browser and an out of date website certificate. If you can't access the radio website, take a look at this video that explains how to work around the issue.
Follow the #ds106radio tweets, and join in the conversation on Twitter. At a minimum, announce that you are also listening in a tweet using the #ds106radio hashtag. You must tweet to get credit for this listening assignment. Ideally, you should also comment on the audio storytelling you are hearing. If this seems odd to you, look up live-tweeting. It is a real thing if it is in the dictionary, right? I want you to have the experience of live-tweeting to a radio show with others outside of our class.
Watch:
Experiment With Sound: Using Audacity or a similar audio editing tool, create a radio bumper to be used on the "DS106 Radio" station. What is a bumper, you ask? Head on over to Wikipedia and read about radio bumpers. An alternative term is radio sweeper. The radio bumper is an assignment found in the Assignment Bank. Earn extra Internet Points for incorporating the superhero theme into your bumper recording. You can find some inspiration for radio bumpers by searching for examples on YouTube. You might even discover some tutorial videos there on how to create and edit radio bumpers if you have never used audio editing software before.
Also, create a short audio introduction to the superhero character that you have previously created. This introduction to the Powerpuff Girls includes animation, which is a topic for another time, but the soundtrack gives you a good idea of what is possible with audio. Upload your bumper recording and your superhero introduction to SoundCloud.
Complete 3 Daily Creates: Complete and correctly tag at least three daily creates this week. Make sure you also include these in your weekly summary.
Assignment Bank – 10 Stars of Audio Assignments: Complete 10 additional Stars of Assignments from the Audio Assignments category. In your work, complete one of these two assignments: The sound effects story (4 stars) or The contest that nobody could win (3 stars) as part of your 10 stars this week. For the sound effects assignment, it can be a lot of fun creating your own sound effects, but you may also use http://freesound.org to find free sound effects for this project.
Please be sure to create a separate blog post for each of the Assignment Bank assignments you complete. Make sure all your completed assignments are uploaded to SoundCloud, and write up a post for each assignment in which you embed that audio from SoundCloud. You need to tag each assignment separately and correctly, so it refers back to the assignment page as a past example.
Radio Show Ideas: Soon, we will be creating a radio show to air on the internet radio station. Ideally, this program will incorporate in some way, our theme of superheroes. Brainstorm some story ideas, then write a blog post discussing these ideas you think would be good for the radio program to be created by our class.
Commenting: Comment, comment, and comment some more. You should all be looking at each others' work and giving feedback. Share your best work on Twitter, and leave feedback on a few posts of others as well. That's the main way we do class participation in this course.
Weekly Summary: Write a weekly summary of this week's activities. The summary should refer to all of the other blog posts created throughout the week, and should discuss any online activities such as tweeting and commenting on other blogs. Be sure to also mention the Daily Creates you completed. Submit your weekly summary to canvas by Sunday evening at 11:59 pm.